This article is sponsored by Displate. If you buy something from a link, Video Games Artwork may earn a commission.
Hey y'all. It's been a long while since I've posted a blog article. Which makes it all the more exciting that the first one in a while is a review. I was recently contacted by Displate if I would like to write a review of one of their posters. I obviously said yes, because I have been popping in their marketplace every now and then for the past couple of years. I think most of you will know the marketplace Displate. If not, check out their website through the link. They were one of the first marketplace that sold posters on a metal canvas. But what's even cooler is that they sell officially licensed video game artworks.
The list of official designs available at Displate is insane. From big names like Cyberpunk and Star Wars to Marvel artworks too. If you're looking to make your walls come to life, you'll have a great time exploring their marketplace. Every week Displate releases a new limited edition design, some of which are inspired by some cool video game franchises
We want to bring your attention to their official Fallout and Elder Scrolls posters. See examples below. The designs feature cool vibrant colours and the metal canvas itself is tactile and durable which means your posters will be built to stand the test of time. So go ahead and have fun browsing through their official brand stores to collect some awesome gaming posters for your walls.
So which one did I get?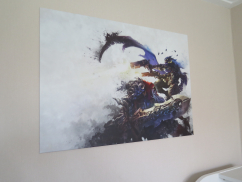 So when Displate approached me for a review, they allowed me to pick one myself. Which didn't make it any easier since they got some many officially licensed artworks from video games. But in the end I chose one from the video game Darksiders Genesis. Because, come one, Joe Madureira's art is just awesome and I knew it would look great on any wall. This particular one depicts both War and Strife in action. Obviously drawn by Madureira and colored by Grace Liu.
The Unpacking
The package from Displate arrived after a few days and I must say, it was packaged really well. It was a cardboard package customized for the metal poster. This way it was a snug fit. Opening the package was a bit like opening a Matryoshka doll, since it consisted of 2 separate packages fit snugly into each other. But this helps to prevent any damage to the poster itself. Aside from the tape on the outside package, everything else was folded into each other, so opening the package was a piece of cake.
The inside package contained some welcome text and also an image of Mr. Stems. A type a creature that functions as a mascot for Displate to compensate for using cardboard packages. Because for every poster we buy from Displate, Displate plants a new tree. And it you draw one or more trees in Mr. Stems picture frame, and post it picture of it on Instagram or Twitter with the hashtag #DisplateForTrees, Mr. Stems (Displate ;-P) will plant an additional 5 trees for each drawing.
The Contents
Now unto what's inside the package. Let's start with the obvious, the metal poster. This is wrapped in plastic to prevent any scratches during shipping. I will dive into the poster itself further in this article.
Also included is some promotional material kept together with a sleeve. The promotional material includes a folder the philosophy of Displate and some of the type of products and services they offer. And a slip with 3 stickers and a 30% discount code that is valid for 30 days after purchase. Lastly a package of cleaning wipes is also included, which you can use when hanging the poster on your wall.
On the back of the poster all the stuff you need to hang (or rather stick) it on your wall is provided. This consists of a manual which explains how to stick the poster on a wall, 2 sticker magnets and 2 paper stickers. Since I received the L sized poster, I need 2 magnets to stick the poster to the wall. The M sized posters only require 1 magnet. The process is rather simple. With the cleaning wipe, you can wipe the place on your wall before sticking the poster on it, if necessary. Then you stick the 2 paper stickers on the spots you want the magnets to be. I assume these paper stickers are a protective layer between the magnets and the wall, to prevent any damage on your wall..... I guess. And lastly, the 2 magnet stickers. The magnets are pretty strong and have some weight and girt to them.
The Poster
And now, the poster itself! To be honest, I did not expect the poster to look like it does. Ever since I heard of metal posters, I always imagined that they would look obviously like I expect metal to look like. Like a piece of iron or steel with an image painted on it. In hindsight, that's just ridiculous. Because that would just be too heavy. But the thing was, it look just like a regular poster. And if I didn't know it was a metal canvas, I would believe it if someone would tell me it was just regular canvas. Not paper though, it looks and gives a feeling that's more luxurious and heavier than paper.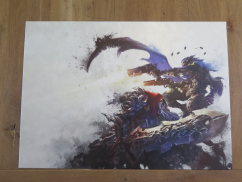 The image looks gorgeous. The colors pop nicely and the image itself is very detailed. It's only when you look very closely that you can see the spray paintiness dots.
The material reminds me of a sheet of tin. Somewhere between the old tin bread boxes and a tin can. Thinner than the bread box, thicker than the can. It's also quite flexible and relatively light. It measures 67.5 by 48 centimeters or 26.5 by 19 inches. Which is a great size. Big enough to get your attention from anywhere in the room, buy not to big to be obnoxious. The sides are folded to the back to give it rounded edges and prevents you from getting cut. It's on the back, where the edges are folded, where you can see how thin the sheet is.
On the back it has a signature of approval by the master of production and a hologram sticker of, probably, authenticity. It also contains a unique reference number which you can enter on the webpage you can reach either through scanning the QR code are typing it in manually. It says it will contain information about what makes your poster unique. But it was just some general product information of the poster itself.
Sticking It
I already mentioned the process of how to stick the poster to a wall. And it is really simple and easy. Way easier than hanging a frame. For which I usually drill a hole, put a plug in it for the screw and then play a guessing game with the framed poster as to where the screw is relatively to the tiny hook on the back of the frame.
Since this poster is an L sized one which requires 2 magnets and it has a landscape orientation, I roughly placed 1 of the paper stickers where I would want the middle of the left side of the poster to be. The paper sticker was a bit tricky at first, but that was mainly because of my own stupidity. The brown paper sticker isn't the exact same size as the white protection layer that you need to peel off. The top and bottom of the brown sticker shows a slight line of the white protection layer. Which actually makes it easier to remove the brown sticker from its protective layer. But I just kept plucking on the white corner like an idiot, wondering why it didn't come off :-P.
I also took a risk sticking these stickers on my desired wall. The manual states that you shouldn't place it on a wall with structured paint. I happen to have wallpaper with teeny tiny dots on them. So the stickers would only stick to these dots, not the wall itself. But since they're so small, it would still cover a relatively large area to stick onto. So I took the risk anyway.
After I stuck to two paper stickers onto the wall, it was really easy to just stick the magnets onto the paper stickers and stick the poster onto the magnets. Tadaaaa!
Conclusion
All in all, sticking the poster to the wall couldn't be easier and it looks great! You can also frame the posters you buy at Displate. So now I'm wondering it the frame influences the sticking to the wall process.
And like I said before, if I didn't know it was a metal sheet, I would think it was just a very thin piece of canvas stuck to the wall. But getting such a thin piece of canvas so close to the wall wouldn't be as easy. The Displate poster kind of reminds me of sticking posters with tape at the four corners of the wall. It is almost that close to the wall. But with a much, much, much more luxurious look and feel. It will never crumple, is less influenced by sunlight (some of my old posters as a teenagers started to discolor after a while) and it just looks amazing.
I'm already looking for my 2nd one so I can use my discount code. It's just that I'm running into the same problem again...... which one?